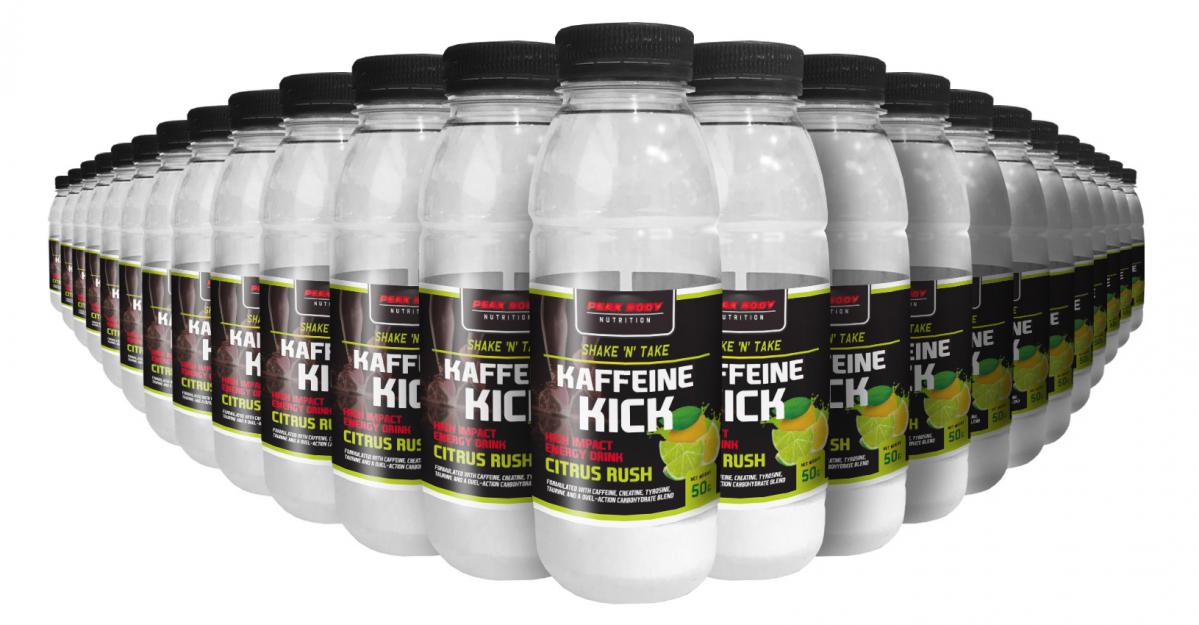 Kaffeine Kick is the number one high impact energy drink available at Peak Body Nutrition. It currently comes in two fantastic flavours, Orange and Lemon & Lime.
There are however two brand new flavours to arrive soon including Wild Berry and Pineapple & Coconut to satisfy your taste buds.
Kaffeine Kick is used by sports enthusiasts and anybody in need of an energy kick thanks to its high caffeine content. The drink actually contains three times as much caffeine as leading energy drink brands making it a no-brainer for those in need of a boost. Anybody who suffers from lethargy will find Kaffeine Kick extremely beneficial for pulling around quickly. Fortunately, for those who need a caffeine boost more frequently, Kaffeine Kick is available in a larger 908g tub too!
The energy drink is most popular for use as a pre workout supplement. It is an extremely potent drink that will blast you into a state of vitality setting you up for hard hitting session at the gym. Kaffeine Kick contains ingredients that provide short and long term energy as well as enhancing a person's mood, reducing a person's stress level and provides greater muscular contractions and fat burning attributes.
Ingredients within the drink include…
L-Tyrosine – used to increase adrenaline and noradrenaline to improve a person's alertness and mood elevation.  This helps to increase a person's energy levels and reduce short term fatigue. As well as this the ingredient aids in fat burning properties when added to thermogenic compounds.
Caffeine – this will help increase a person's energy levels and improve short term lifting and aerobic capacities.
Creatine – used to increase the volume of cells to create a better anabolic environment which will enhance a person's strength and the size of their muscles.
L-Taurine – this is an excellent antioxidant and helps to prevent extreme damage from occurring in the muscle cells.
Kaffeine Kick can be purchased in a 908g tub containing 18 servings of the drink.  Alternatively the product can be bought in individual 50g bottles that are simply filled with water and shaken for on the go convenience.
Kaffeine Kick should be taken 20-30 minutes before intense exercise or at any time during the day when increased alertness is required.