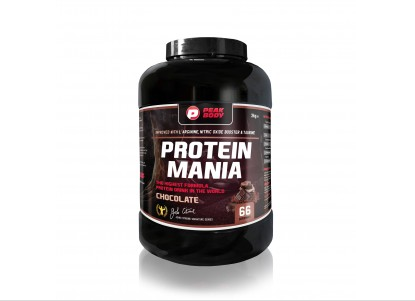 What is Protein Mania?
Protein Mania is a protein powder made up of Whey Protein Isolate, Soya Protein Isolate, Creatine Monohydrate, L-Glutamine and Taurine. It comes in four fantastic flavours including strawberry, vanilla, chocolate and banana.
So what's all the hype about?
Protein Mania may sound like any other protein powder available on the market, but here's the difference. A staggering 99 grammes of 100 grammes of this product is protein. This means that for every 30-gram serving you have you are consuming 29 grammes of protein. That's a whopping amount, and it's the only protein product available on the market that offers such high quantities.
Protein Mania is also jam packed with vital nutrients and contains zero carbohydrates and zero fat.
What does this mean for the consumer?
A diverse number of individuals choose to use Protein Mania including serious bodybuilders and weightlifters. The reason being, that the Peak Body product provides you with multiple benefits for reaching your goals.
Protein
Protein is an essential nutrient needed by the human body. It is important for maintaining energy levels and for building and repairing body tissues. Protein can be obtained from a number of different sources including eggs, milk, soy, fish, whole grains and meat products. It can, however, be extremely difficult to ensure that you are getting enough protein needed for your bodybuilding and weightlifting exercises. This is where protein powders come in, and in particular Protein Mania due to its high levels of protein. Athletes can guarantee that they are taking in enough of it ensuring that they can grow, mature and repair before, during and after a workout.
Fat
Protein Mania contains zero carbohydrates and zero fat quantities. This makes it an excellent product for aiding in weight loss.
Muscle Gains
Protein Mania is one of the best protein powders available in the UK delivering some of the highest quantities of protein in a powder. Containing high-quality blends of Whey Isolate and soya isolate consumers can recover much faster ensuring that you can get back to the gym as quickly as possible.
Increased Strength
Protein Mania contains Creatine Monohydrate as well as numerous amino acids including Taurine, L-Glutamine and L-Arginine. These work together simultaneously to enhance one's strength, boost protein synthesis, improve muscular endurance and increase the amount of oxygen to the muscles.
Quick Absorption
Protein Mania contains Soya Protein which is considered to be one of the best proteins out there for digestion. This makes Protein Mania one of the best proteins available for rapid absorption and digestion ensuring that the body wastes as little of the product as possible.